Noelle Becker Moreno

Dec 8, 2022
From Airbnb to Web3: Reinventing My Career with the Decentralized Web
What do interior design, Airbnb, and web3 have in common? Noelle Becker Moreno shares how her passion to improve the world led her to The Graph ecosystem.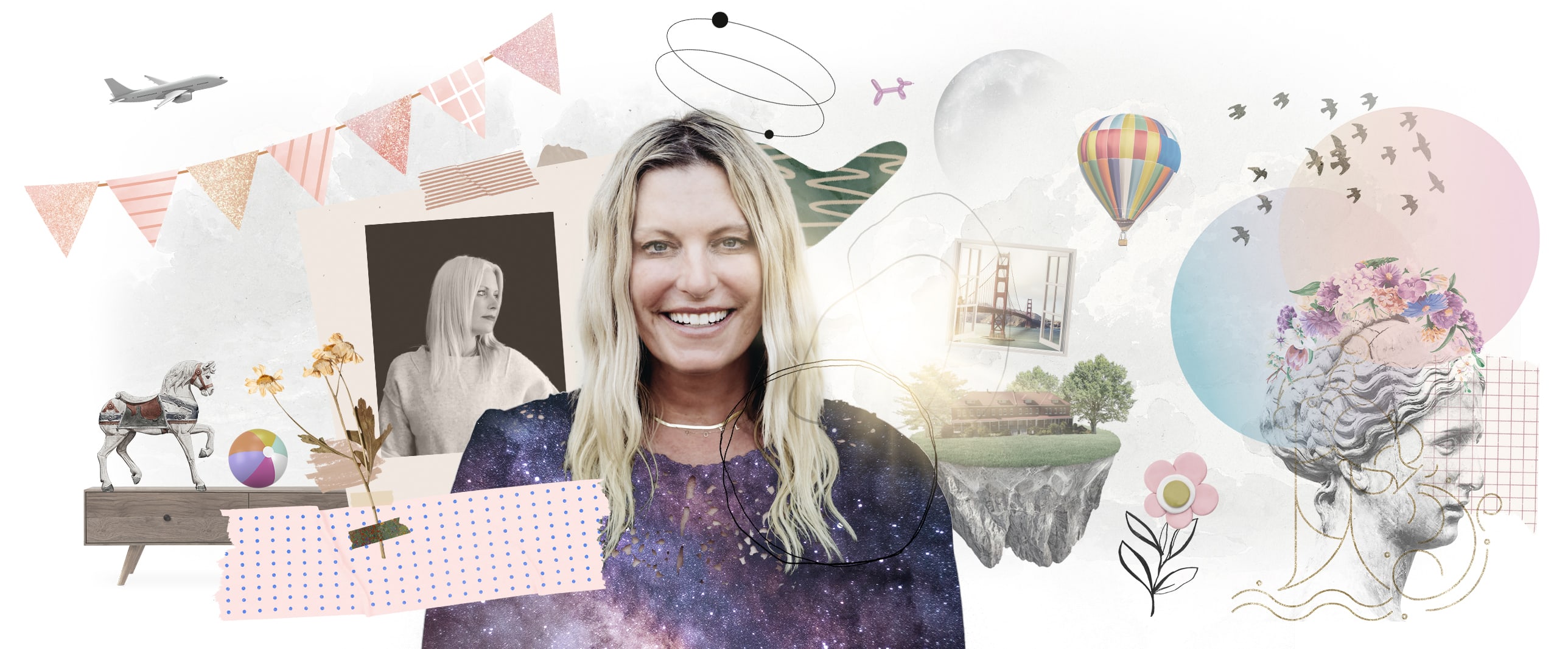 Sometimes all it takes is a global pandemic to turn everything on its head – put things into perspective and finally give you the courage to forge a brand new path. That's exactly what happened in 2021 when I left all that I knew in a familiar, design-centered corporate world and came to the remote doorstep of Edge & Node. Since then, I've never looked back.
I recently had the honor of being a guest on one of my favorite web3 podcasts, GRTiQ, where I revisited the path that led me to Edge & Node, and The Graph (hint: it involved Tegan Kline).
Everyone has their own unique story on how they fell into the rabbithole of web3. I'd love for mine to inspire you to embark on your own journey.
Following college, my trajectory has been quite unique… The first stop was a career launch into what I jokingly call 'd-level' modeling. My modeling career put my face on billboards and buses in my local tri-state area – but what I cared about more was the business skills I was picking up along the way. In the modeling industry, aspiring models become familiar to the world of marketing by essentially becoming guerilla marketers for themselves. After modeling for several years, I translated the business skills I'd picked up and slid into a career in marketing at Marriott Hotels, followed by a short stint in corporate sales at FedEx.
Those first few jobs were soulless. When I thought about where I wanted my career to go next, I realized that I needed to do something I cared about – something that embodied me, my skills, and my passions.
And so, after having my first child, I took a chance and opened a high-end maternity and baby store, Chulamama. My friend and I opened the store on the North Shore of Boston – she was also a mom and creative RISD graduate. With unbelievable speed after launching, we nabbed the 'Best of Boston' award, an annual honor reserved for Boston's (you guessed it) best businesses. Our maternity and baby clothing line was increasingly gaining popularity and worn by the most trendy new moms, and to our shock and delight, friends were sending us social media posts showing that the children of famous athletes wore our line.
Our forte was grassroots marketing. Our maternity and baby line was also one of our best marketing tools, along with our specialty in curating and importing niche lines. Recognition of our brand led to us later being approached by Amazon to help pilot their small business program. Expanding into this new platform, we were profitable within months and launched a second store.
Launching a brand was a rocketship of a ride for 5 years – that is, until a personal loss and a cross country move turned the lights out on our flagship 'Chulamama' store, and turned them on at Noelle Becker Studio.
After moving, I doubled down on another passion – design! To grow, I needed to reinvent myself again. So I created a prêt-à-porter approach to interior design, something that was new to the industry at the time. I worked with clients outfitting homes, startup offices, and commercial spaces with off-the-shelf design in under 30 days – and complete remodels in under 90. I utilized my Noelle Becker Studio Instagram account as my number one marketing tool, highlighting my work, posting inspirational stories, and connecting to potential worldwide clients, growing my account past 50K followers. With all of this, I was suddenly overwhelmed with requests for collaboration with top retailers who wanted me to include their products in my design photoshoots and promote them to my audience on Instagram.
Around the time I was growing my design studio, I suddenly gained a new job title: sole parent! I loved transforming people's homes, but my own home was transforming too, and I felt like I needed to change career paths yet again for something more structured. That's when I heard that Airbnb was trying to launch a new pilot program, Airbnb Plus. They needed to scale the interior design work I was already doing for my clients, to 10,000+ marketplace hosts trying to get on the new Plus platform. I was invited to meet with the Airbnb team – they reviewed my experience, business model, and the ideas I had to scale the program. Months later, I kicked off the pilot program and became the program's design ops manager, a leadership role with a mission to onboard hundreds of hosts.
One of those hosts was Edge & Node co-founder, Tegan Kline. I didn't realize it at the time, but this new-client-turned-friend would 'red pill' me and my career path would take a sharp turn toward web3.
Tegan is the best web3 evangelist – spreading the good word to all those who would listen, including an interior designer with zero interest in the web3 space. With each new conversation and continued education, further and further down the rabbithole I went.
Friends and colleagues started jumping from Airbnb and heading to different web2 companies and some joined web3 protocols, each seeming to be one that would have the greatest impact on the world. It wasn't until Tegan explained the mission behind the work she was doing at Edge & Node contributing to The Graph, and the brilliant team and people behind it, that it was clear as day – there was no better place for me.
So, I began my web3 journey by developing my understanding of the technology behind The Graph.
Data. Big, beautiful, complicated, organized data. When you think of modern day society, we still have the basic human needs of air, water, food, and shelter. But in the equivalent of today's Maslow's hierarchy needs, we also need data. Without data, society would come to a complete halt. Data runs our banks, our schools, hospitals… It touches everything, and it's everywhere – on sheets of paper by the bedside, in an archaic town hall, in banking systems, and social media platforms.
I had an epiphany. What if data could all be in one place, at your fingertips, organized, beautiful – think Marie Kondo, but for data? What if the whole world, everything you want to know, see, keep, create, or share could be at your fingertips, like an immutable, transparent encyclopedia for all. To me, this  is meaningful. Life changing, even. Think of all the things you could do with organized data. That's the Graph, all the world's public blockchain data, filtered through The Graph. And with KonMari Method precision, subgraphs organize the data in any shape or form that you want, so you can create, build, innovate, and improve everything there is to improve in current society. Powerful stuff! Following that epiphany, I made the leap – into marketing and events for Edge & Node, supporting The Graph!
Now that I am working in web3, people love to ask me all sorts of questions. The two questions I get most frequently include some variation of, "What the hell is a blockchain?" and/or "Don't you miss it?" 'It' I'm assuming, being a designer, 888 Brannon, or the super hipster FAANG work life. And, while I do miss certain things, like changing lives by changing the spaces people inhabit, cookie drop Tuesdays, and kombucha on tap – I've never felt such alignment in my work and the mission I am working toward in all my life.
I would say 90% of my friends don't know what a blockchain is, and that means that there is a lot of work ahead of us.
I'm incredibly proud that Edge & Node carves out resources and implements marketing efforts to educate people on web3. We are passionate about our mission towards decentralization and wanting to support the efforts of driving the movement toward a decentralized internet. Edge & Node commits resources to educate the community and thinks of the internet as a public good. The mission comes first and this mission is what keeps me glued to my rocket seat, helping to katapult web3 to the next level.
I launched the Edge & Node House of Web3 this October. A first of its kind co-creation space in the heart of the historic Presidio in San Francisco, this web3 hub comes with almost 13,000 square feet for the web3 community to come build, create, launch, network, and learn.
Besides being a breathtaking space to do heads-down work, mingle or connect, the Edge & Node House of Web3 also regularly hosts speakers and workshops. Many of our events are completely open and free to the public, with topics that range from DeFi, NFTs, and metaverse topics, to how to get started in web3, and enact public policy change through technology.
So when friends ask, "WTF is a blockchain?" I can partially say the textbook answer, but can also offer them something more,  "A blockchain is a distributed digital ledger that stores data, and by the way, come to the House of Web3 for our Blockchain 101 learning series to learn more."
The second most frequently asked question I get is a bit more nuanced. This is the question of whether I miss my old, familiar world(s) and it implies that I somehow left parts of myself in the web2 world, but the truth is, I brought all of that with me and now embrace a new side to Noelle – the web3 version of myself.
I definitely had preconceived notions of web3 companies and protocols before I joined. I envisioned a scene out of the movie A Brilliant Mind but instead of using a chalkboard, the characters were using computers, and, while some of this is true, Edge & Node (and The Graph ecosystem) have some of the smartest and most talented developers and engineers in the space (A Beautiful Mind level), and as in all businesses, there are many non-technical roles to be filled, that need to be filled, for any of these companies/protocols/DAOs to scale and make it. And so, I invite all of you, my right-brained, creative friends to think about making the leap from the past and diving head first into the future of web3.
My tips for making the leap into web3:
If you don't know anything about web3 (I started out like this), the first thing to do is to become a web3 sponge. Join the crypto characters on Twitter and follow thought leaders in the space. To educate myself further, I also received a University of California, Berkeley professional certificate on "Bitcoin & Cryptocurrency'' which helped give me a foundational understanding. While there is no way to learn it all, you can lean into understanding the niche areas that you find interesting or feel aligned with. For me, this was smart contracts and the future gig economy, all of which need data (hence landing at Edge & Node and in The Graph ecosystem).
Go to events and meet the web3 community. The community is very welcoming. It can be intimidating at first, but trust me, almost everyone wants to share this information and loves talking about it! Check out Eventbrite or Meetup.com to find local events in your area. My favorite monthly event in San Francisco is Crypto Underground, which has interesting panels at every event and they always leave you time to mix and mingle at the end.
Find a mentor. Once you start meeting people within web3, find one that you connect with that is willing to be your mentor. For me, this person was Tegan Kline. She answered any questions that come up (and still does) as I grow and interact with the community and launch into the web3 space. The web3 community is generous, and everyone remembers what it was like getting started and are more than happy to help.
Take the tools out of your toolbox and see what you have in there. List out all your skills, even ones you think may never apply. I not only had marketing skills, but also vendor management, operations, retail, interior design, accounting, film, event planning, influencer marketing, project management, etc. When I first joined Edge & Node, I knew I would be leaning into marketing and events, but I did not think I would use every single other tool in my toolbox, yet I did – down to designing the entire interior of The House of Web3!
Be confident, and for Pete's sake, be yourself. Bring every creative inch of you to your work – the web3 space needs it. It's uncharted territory and while we don't always have to reinvent the wheel, sometimes we do. We need innovators and people that think out of the box, find solutions, and build doors where there are only windows.
Web3 needs you!
At Airbnb employees would say you were "bleeding Rausch" when you couldn't see yourself anywhere else but there, and I would certainly say I'm now bleeding web3. I'm grateful everyday I am in the web3 space and a part of this incredible community. Once you see what's possible in the future, with the infrastructure that The Graph ecosystem and Edge & Node are building, there is just no going back… even for cookie drop Tuesday.
If you found this article helpful, have more questions, or simply just want to chat, you can find me on Twitter @1stNoL, or check out The House of Web3 and our events. Come on by and say "hello" and maybe I can help you down the rabbit hole!
About Edge & Node
Edge & Node is a software development team dedicated to the advancement of web3. Founded by the initial team behind The Graph, a protocol for indexing and querying blockchain data, Edge & Node plays a vital role in supporting and scaling protocols and development teams throughout the global web3 ecosystem. From building solutions that helped decentralize one of the most critical layers of web3 to tracking every project being built in the decentralized community, Edge & Node is mission-focused on empowering individuals with the ability to contribute to moving humanity forward.
To keep up with all things Edge & Node, follow us on Twitter, LinkedIn, Github and Instagram.
Subscribe to our newsletter for the best of web3
Stay on top of the latest web3 news with a fresh cup of web3 Tea delivered right to your inbox. Web3 Tea is a bi-weekly round-up of web3 developments, macro observations, and profound tweets.
Stay stimulated with web3 Tea, whether you're a web3 beginner or expert!